Well deserved P2 while victory narrowly missed 
Round 2 for GPVWC Superleague 2022, 2 weeks after double point scoring at Imola and the race was expected to be equally good but the pleasant surprises came from the German driver very early at qualifying session.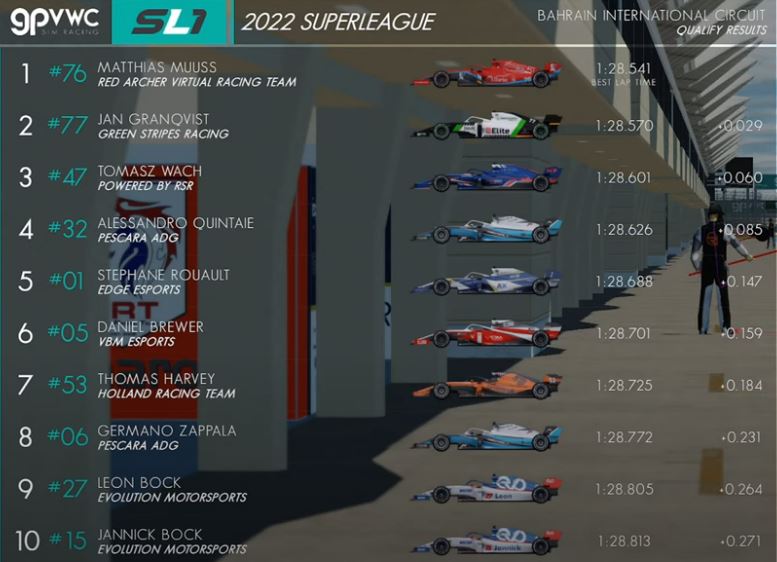 At his 50th race with the Greek team Matthias Muuss drove the fastest lap among a very strong grid and his first pole position was a fact !!
The same time Jan Kattau had severe balance problems with the car and could not perform at his skills qualifying at the later lines of the grid.
The race started with an unquestionable plan for 2 stops and full attack from the very first lap. Matthias lead through the entire first stint and getting out pf the pits he had to deal with quite a big number of harder tyres cars that forced him perform many overtakes on drivers that had no reason to make his life easier.
In the middle of the grid Jan Kattau had to deal with slower drivers but his tyres and car setup could not help overtake them being top 20 mostly at a misfortunate race.
The last stint for Matthias was evenm harder as the drivers that he had to overtake were fighting for points, podium and victory. 
Strong defence and long use of engine boost exhausted tyres and batteries and P1 few laps before the end of the race was not meant to last.
A strong race and P2 was well celebrated at the "archer's" garage while an other points scoring finish from Jan allows optimism increase for the future of the season.